Comet 16x PvP pack
Comet 16x is a clean PVP pack for all devices on bedrock edition with the newest nether update content. In this pack it changes all the tools weapons and armor and more to make them look better for PVP.

The goal of this resource pack is to allow for the best PvP experience while playing. In addition, this is mainly for people who enjoy PvP and want to have a nice time while playing game-types like Bed Wars, Treasure Wars, and anything similar. However, this pack can shine in other areas of gameplay too, try it out and you'll be sure to like it. Currently, the items this resource pack focuses on are the weapons, tools, armor, along with a couple other things, but I plan on creating more in the future during the course of this project. Furthermore, the reason behind creating this resource pack was the yearning to have a worthy PvP pack and share it with others to have. Also, just as a reminder, this resource pack does not improve FPS performance, that is theoretically impossible with something like this.
Since this resource pack is still in production, I'll make sure to have updates whenever possible. During this process I plan to take ample time while working on everything, so hopefully everyone likes what I have so far. If you decide to download the resource pack, feel free to leave feedback, I'm open to all suggestions. Below will be some pictures of some tools up close in game.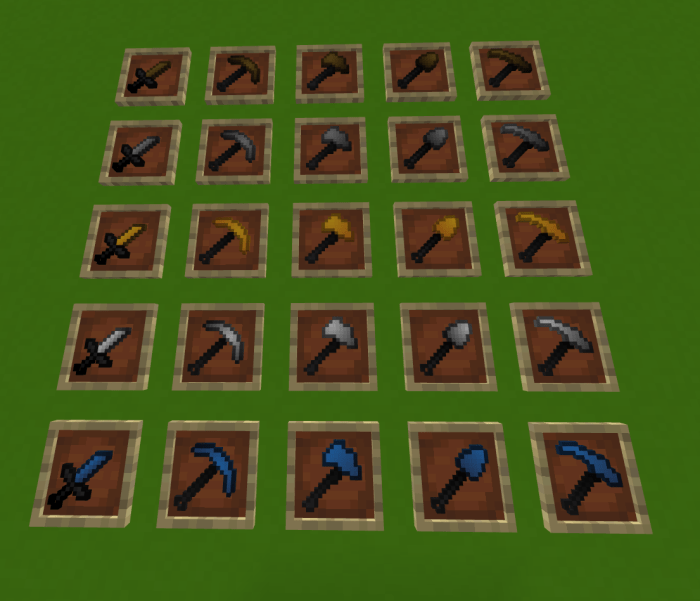 (Textures are not final and will be updated)
Below are the icons for all the armors and what they will look like in inventory.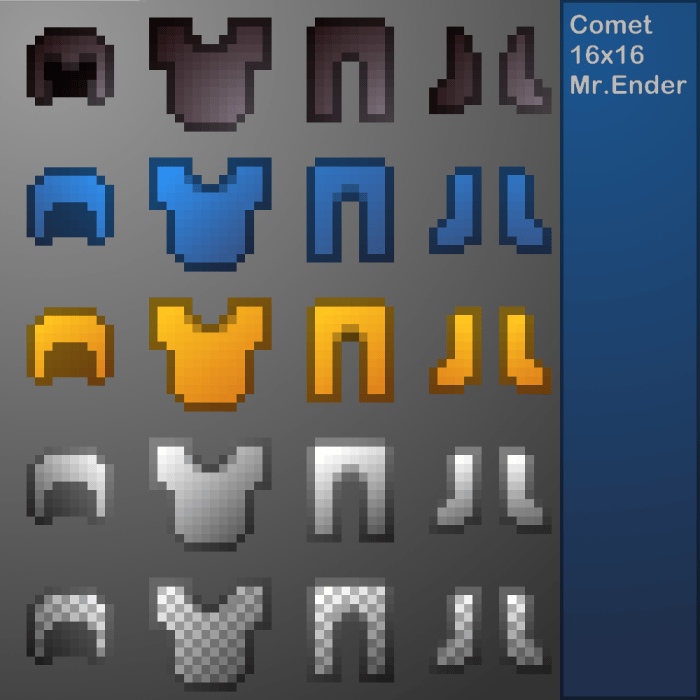 Now there is tons of other items changed, however I would like you to experience it yourself. I will now list what is done, being worked on, and is planned in the upcoming future.
Done
all tools, weapons, and armor except leather
health and saturation bar
normal and golden apples
crit and potion particles
fishing rods and bows
ender pearls and eyes of ender
some foods
buckets
all the ingots
fire
Updated
added sky
made potion particles way better
changed iron slightly to not have as much as a big gradient
added wool and oak planks
removed unneeded files to help the new stuff not make the pack take up a ton more space
made crosshair even brighter so you can see it better on stone like blocks
Working on
leather armor
updating netherite armor
crossbows
carrot on stick and things like that
Planned for future
tridents
potions
xp bar
some sound effects
shield
some blocks
beds
some entities
some ui changes
and more