The Little Things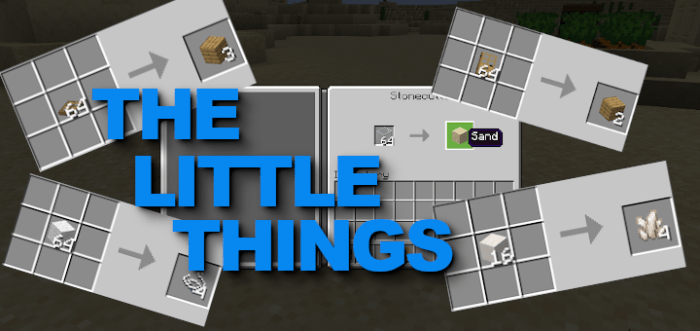 The Little Things adds adds 
100+ recipes

  to "UNCRAFT" your over crafting mistakes back into their base components!!

Craft to many walls? Not a problem!
Just craft them back into the blocks you used to make them!

Craft trapdoors back into planks!

Doors too!

Now you can craft your wool into string!

Or Quartz blocks back into Nether Quartz!
Some of the recipes include:
Crafting:
    Smelting:
    Stonecutter:
The Little Things addon only adds recipes for Vanilla Minecraft blocks and items, it does not add any new blocks of features to your worlds!

The Little Things addon can even be added to existing worlds!


Have an item that you craft to many of that is not in the pack? Then comment below and it just might get added in the next release! 


The Little Things works on all Bedrock SERVERS, REALMS and SINGLE PLAYER worlds! It also works on all platforms! So you and all of your friends don't have to worry about crafting to many of an item!
You are allowed to used The Little Things addon in addon packs if credit is given to SyKo!


You are not allowed to repost The Little Things Addon to MCPEDL or another hosting site!


You are not allowed to duplicate or modify The Little Things Addon!